MiniVODViewer
A borderless and always on top viewer for video on demand services like Netflix or Amazon Prime Video on your Windows Desktop.
A simple application that embeds Internet Explorer in a borderless and always on top window so that you can watch Netflix or other video on demand services while working.
Without
MiniVODViewer: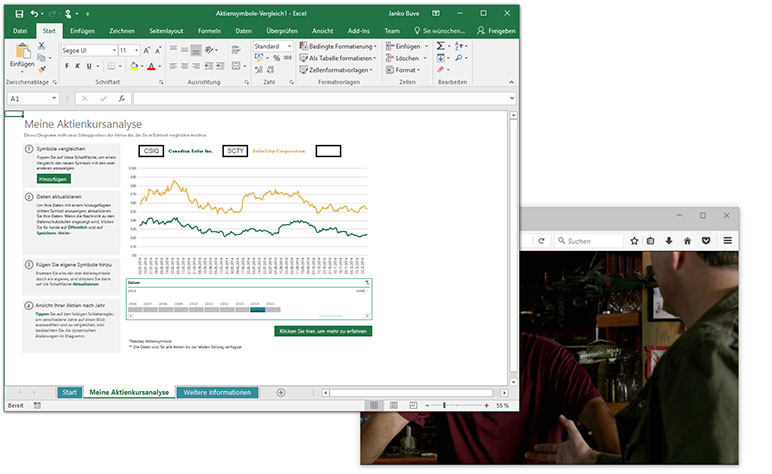 With
MiniVODViewer:
Features:
Always on top
Border less window (Toolbar appears when moving the mouse over the top of the window)
Quick Navigation between different VOD-Services
Configurable services (Add your own VOD-Websites)
It's free!
The Toolbar in Detail:

How to edit VOD-Sites in the Toolbar?
Click on the gear icon in the toolbar to open the Settings-Window: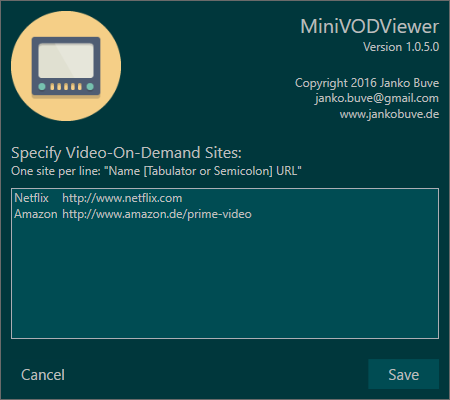 Enter the VOD-Sites into the text box in the following format:
One VOD-Website per line.
Separate Name and Url with tabulator or semicolon.
The Site in the first line is the default one.
Feedback or Suggestions?
Please write me an email to janko.buve at gmail dot com
Changelog
2017/04/25 - v1.0.9.0
Netflix login problem fixed (Browser User Agent changed)
Download
Current Version 1.0.9.0
System Requirements
Current Version of
Internet Explorer
Windows 8, 10
.NET 4.5
Copyright by Janko Buve &copy 2016 · janko.buve at gmail dot com